VC-231GF: Single-port Gigabit Ethernet-over-VDSL2 Converter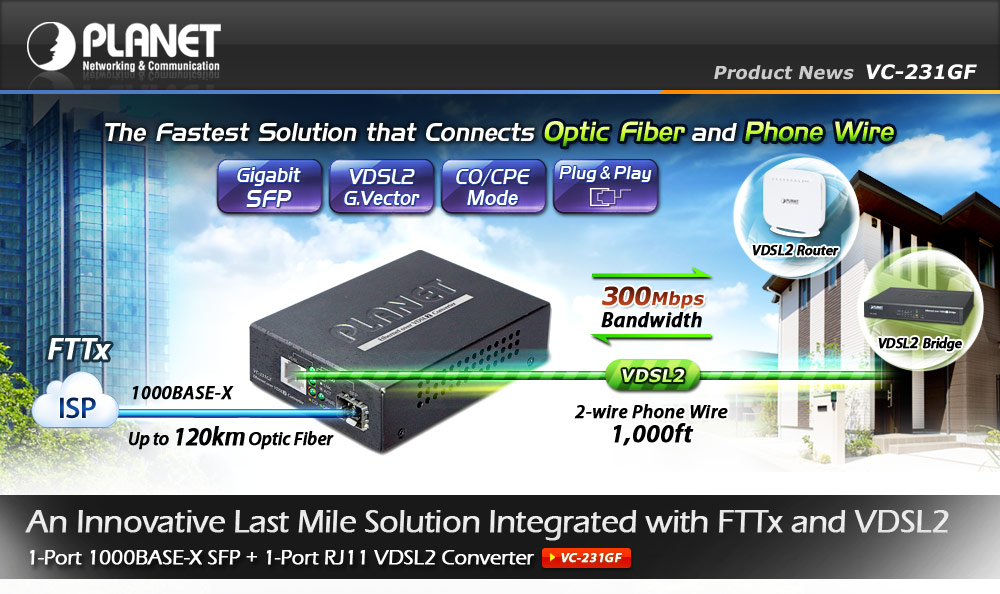 The VC-231GF, a PLANET Long Reach Ethernet (LRE) solution, is a Single-port Gigabit Ethernet-over-VDSL2 Converter for connecting ultra-fast FTTx deployment with the existing in-building and in-house telephone wire installation.

VDSL2 Delivering High-demanding Service Connectivity for ISP/Triple Play Devices
The VC-231GF features one 1000BASE-X SFP slot for remote optical fiber Ethernet connection and one RJ11 port with the VDSL2 technology to provide an excellent bandwidth of up to a total duplex data rate of 300Mbps and can extend a maximum distance of up to 1.4km (4,593ft) over existing telephone wire to the in-house VDSL2 router or bridge, which overcomes in-house fiber installation problems.

Fiber-Optic Link Capability Enables Extension of FTTx Deployment
The VC-231GF realizes ISPs (internet service providers) and SIs (system integrators) to deploy Gigabit Ethernet optical fiber cables in the front of the building or subscriber's house and provide high-speed triple play services over existing telephone wire. They can simply upgrade their current networks without any difficulty. Besides, its compact-sized metal housing makes the installation in a telecom box convenient.
| | |
| --- | --- |
| | One 1000BASE-X SFP interface extends the distance from 550 meters to 120km |
| | Up to symmetric data rate of 150/150Mbps and asymmetric data rate of 200/100Mbps |
| | IP data over phone wire up to 1.4km |
| | CO/CPE mode selectable via DIP switch |
| | Selectable target band plan and SNR margin |
| | Supports 6KV DC Ethernet ESD protection |